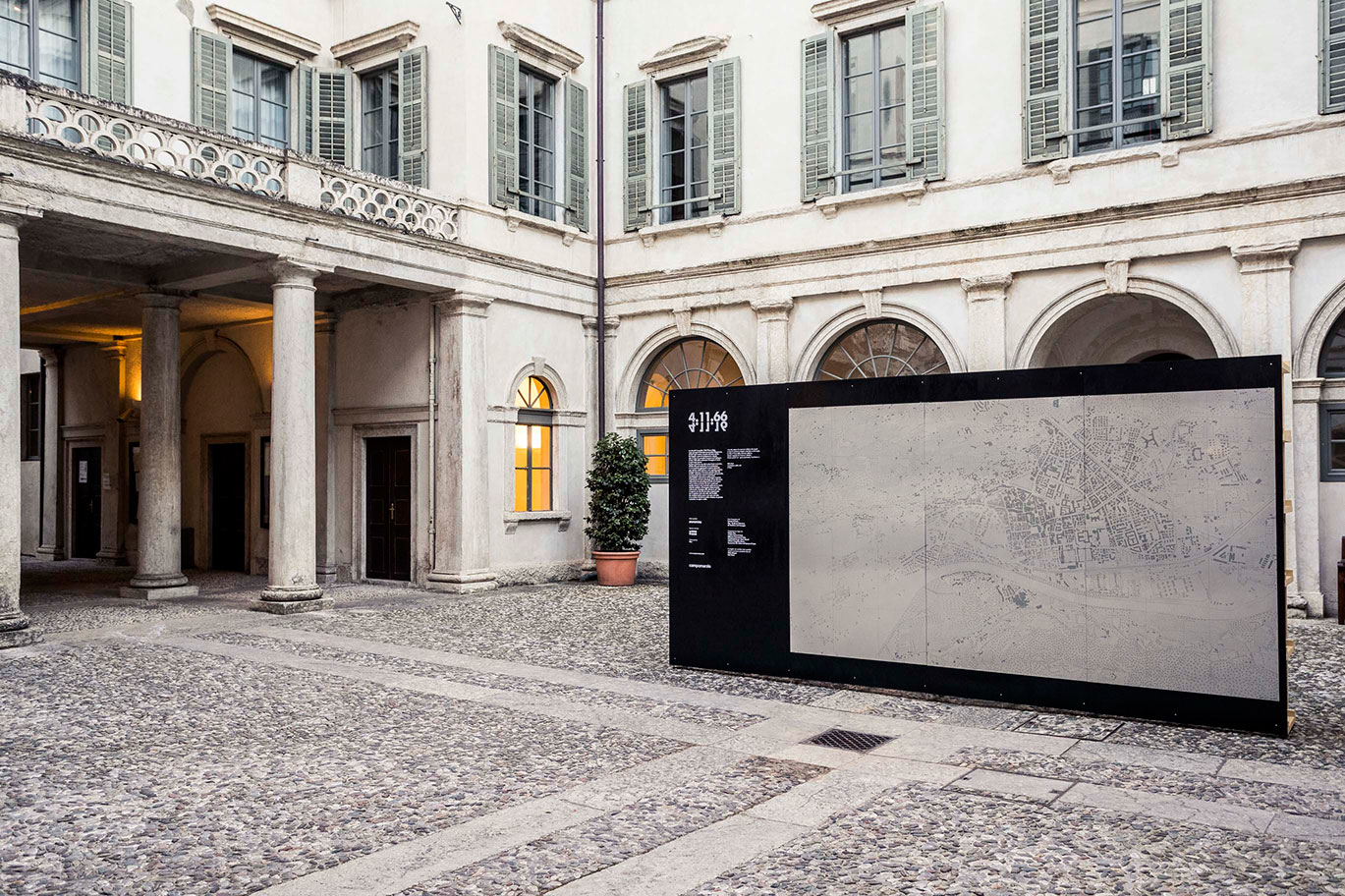 Location:



Trento, IT
Main sponsor:



Pixartprinting
Technical sponsor:



Moon Wood
Vision partner:



Blum
With the patronage of:



Comune di Trento
Step – Scuola di Governo del Territorio e del Paesaggio
With the patronage of:


Palazzo Thun

Archivio Storico di Trento
Biblioteca Comunale di Trento
Soprintendenza per i Beni Culturali

Archivio Fotografico Storico

Assessorato alla Cultura del Comune di Trento
Photo:



Jacopo Salvi
Year:




2016
D

uring the night of November 

4 1966, the Adige R

iver burst its banks in 

Roncafort

, provoking the flood of the Adige Valley 

and

 invading p

art of the historic center of Trento. A research project, curated by Campomarzio for a period of over a year, allowed the survey and the redrawing of more than 1500 buildings, composing a snapshot of 

the 

urban plan of Trento in that tragic day. 

The 

flood waters

 have invaded a city in its economic boom, 

at the Dawn of Postmodernity

, in a period in which 

huge industrial plants coexist

ed

 with farms, ancient buildings and new social housing blocks. The redrawn urban plan represents the urban space of the city in 1966, abolishing for a while any kind of hierarchy between internal and external spaces, private and public realms. An obsessive and fragmented picture, the archeological survey of 

a passed

 and forgotten city

,

 which 

was facing the paradigm shift from industrial to tertiary economy. The 1966 urban plan 

is 

retroactively

 confronted

 with the 

contemporary

 city, 

and with the many potential cities that could have been and that never existed.
La notte del 4 novembre 1966 il fiume Adige ruppe gli argini di Roncafort provocando l'allagamento di tutto l'agro trentino e di parte del centro storico. Un'indagine, curata da Campomarzio e durata oltre un anno, ha consentito il recupero ed il ridisegno di oltre 1500 edifici restituendo l'immagine di Trento in quel tragico giorno. La piena sommerse una città in pieno boom economico, all'alba della post-modernità, in cui convivevano e si accumulavano giganteschi complessi industriali, case agricole, antichi palazzi e nuovi quartieri popolari. Il disegno descrive la dimensione spaziale della città di allora, abolendone momentaneamente ogni gerarchia, sovrapponendo spazi esterni e spazi interni, spazi pubblici e spazi privati. Un'immagine ossessiva e polverizzata, lo scavo archeologico di una città antica e dimenticata che già prefigurava la fine di un'epoca e di un sistema economico che da lì a pochi anni sarebbe entrato in crisi, lasciando spazio ad una nuova urbanità modellata sull'emergente settore terziario e direzionale. L'immagine della città che fu nel 1966 si rapporta così alla città che esiste ai giorni nostri ma al contempo anche alle molte città invisibili che sarebbero potute essere e non sono mai state, in un continuo rimando tra realtà e finzione, tra passato e presente, tra sogno e realtà.