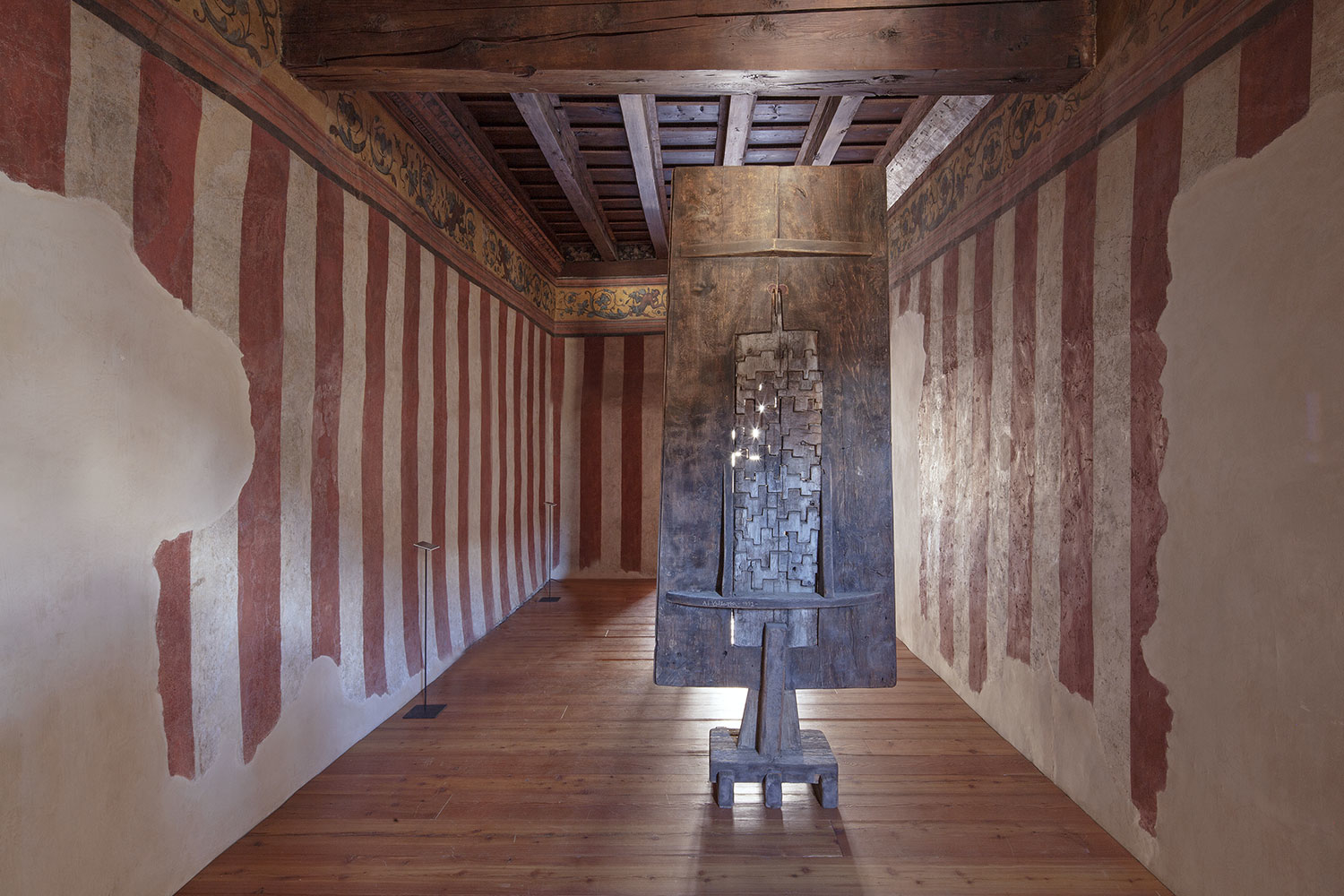 Adolf Vallazza
Una storia scritta nel legno
Location:



Cles, IT
Curated by:



Gabriele Lorenzoni
Client:


Palazzo Assessorile
Comune di Cles
Type:


Commission
Year:




2018
Budget:



Confidential
Photo:




Francesco Mattuzzi
The exhibition about Adolf Vallazza, an iconic figure of contemporary sculpture, covers over forty years of production thanks to a huge collection of almost 100 pieces including sculptures, drawings and sketches. The exhibition is set up in the famous Palazzo Assessorile of Cles, a building with an ancient and layered architectonic history: founded like a tower-house of the De Cles family, destroyed by a peasant revolt to be rebuilt as the summer residence of the Prince-Bishop and  then turned into a Napoleonic prison. Most of the rooms are decorated with frescoes by Marcello Fogolino, commissioned in the 1500s by Anna Wolkenstein, or with rich wooden ceilings.
The great importance of the palace therefore requires an essential and almost "invisible" layout that can bring together the massive wooden sculptures of Vallazza with the architecture of the building. From the beginning it was decided to make the sculptures "usable" and "crossable", giving the public the opportunity to touch them passing through, looking for a spatial relationship with the various rooms. In order to make the tour as fluid and immersive as possible, the spaces are not overloaded with additional texts or equipment, the captions of the works are placed along the walls on burnished metal supports and some large format prints of Gianni Berengo Gardin's shots dialogue with the sculptures.
La mostra su Adolf Vallazza, figura iconica nel panorama della scultura contemporanea, ripercorre il lavoro dell'artista di Ortisei esponendo quasi 100 opere, tra sculture, disegni e bozzetti che coprono oltre quarant'anni di produzione. La sede della mostra è il famoso Palazzo Assessorile di Cles, un edificio dalle incredibili e stratificate vicende architettoniche: nato come casa-torre della famiglia De Cles, distrutto da una rivolta contadina e rifondato per essere residenza estiva del principe vescovo e diventato poi prigione napoleonica. Gran parte degli spazi sono decorati dagli affreschi di Marcello Fogolino, commissionati nel '500 da Anna Wolkenstein, oppure da ricchi soffitti lignei.
La grande importanza del palazzo perciò esigeva un allestimento essenziale e quasi "invisibile" che mettesse in dialogo le imponenti sculture in legno di Vallazza con l'architettura dell'edificio. Fin da principio si è scelto di rendere le sculture "usabili" ed "attraversabili", dando la possibilità al pubblico di poterle toccare passandoci in mezzo, cercando una relazione spaziale con le varie sale. Per rendere il più possibile fluido ed immersivo il percorso di visita si è scelto di non appesantire gli spazi con testi o apparati aggiuntivi, le didascalie delle opere trovano posto lungo i muri su supporti in metallo brunito e alcune stampe a grande formato degli scatti di Gianni Berengo Gardin dialogano con le sculture.