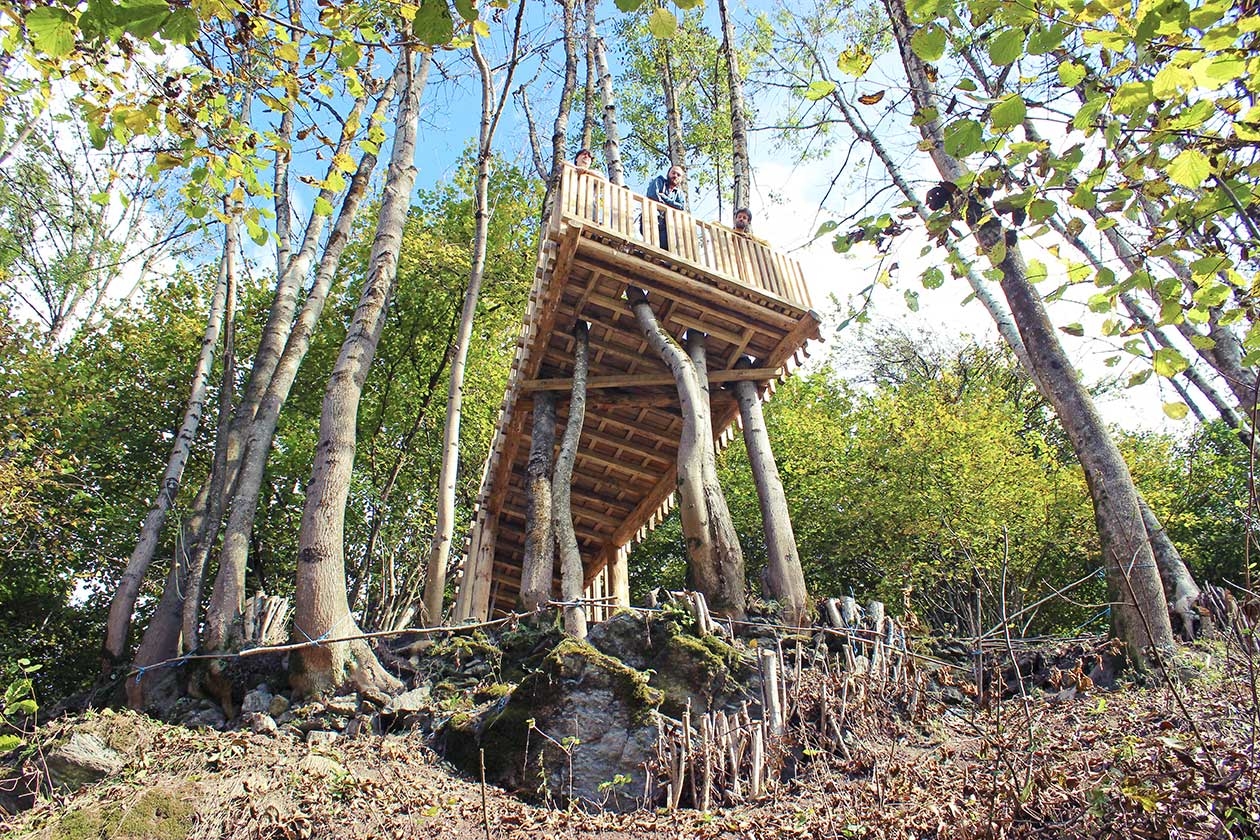 Location:



Siror, IT
Promoted by:
Camposaz
SotAlaZopa | Mountain Rock Festival
Partecipants:
Edoardo Alberti, Chiara Cicciarella, Adina Cristina Costea, Anamaria Felvinczi, Sjors de Graaf, Daniele Fiore, Martina Franceschet, Pauline Koch, Erica Moro, Simone Picano, Alexandra Pislaru, Francesco Tronchin, Ginevra Venturini, Giada Caterina Zerboni
With the technical support of:



Rothoblaas
Year:




2015
The main task of this edition of Camposaz is to recover a small portion of a sloping land, placed over the village of Siror, in order to recuperate the traditional terraced gardens, which are now abandoned. In this mountain area, the old pastures and the cultivated lands have been progressively abandoned and invaded by shrubs, scrub and bushes. The different working phases include the clearing of the area, with the extirpation of invasive plants, and the reconstruction of the old terraced gardens, in order to improve the accessibility of the area. The self-built project consists of two wood installations: the first one is a covered platform visible form the valley, the second one, more intimate, is a overhanging landscape observatory built between the existing trees. 
Il tema principale di questa edizione di Camposaz è quello di ripristinare una piccola porzione del pendio sopra Siror, al fine di restituire quell'immagine della montagna ancora presente nelle vecchie memorie della popolazione. I pascoli e i terreni montani coltivati sono stati progressivamente abbandonati e conquistati da vegetazione infestante arbustiva e arborea. 

Le fasi di sviluppo hanno incluso il recupero dell'area con la pulizia della vegetazione e il rimodellamento delle antiche aree terrazzate per le colture, cercando innanzitutto di rendere accessibile il forte declivio dell'area. 

Il progetto sviluppato è articolato in due diverse strutture in legno, la prima più esposta alla vista dalla valle, la seconda, più intima, concede al visitatore una vista mozzafiato sul panorama.