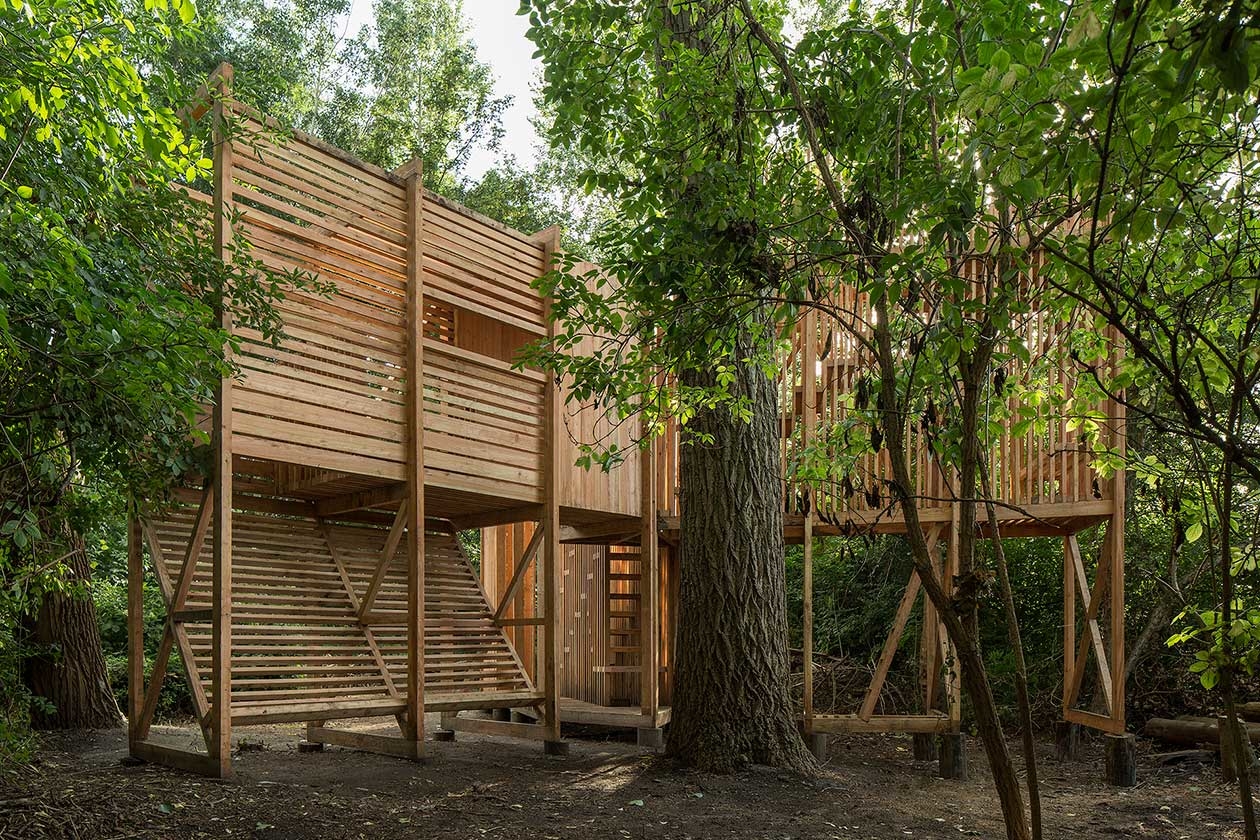 Location:



Rotterdam, NL
Promoted by:

Camposaz
Stichting Kunsteiland
Sjors de Graaf and Tessa Bloembergen
Partecipants:
Davide Tagliabue, Eva Seijas, Jonian Silaj, Manon Stadler, Maria Giovanna Sabatino, Nolan Golgert, Paul Schrijen, Peter Lee, Veronica Sereda, Violette Baudet, Emir Zupljanin
With the technical support of:



Rothoblaas
Year:




2016
Photo:



Sebastian Apostol
People need individual, idyllic places outside of our busy world. Over-information, social media and high work pressure frustrate people in their search for personal balance. Therefore we practice yoga and meditation, we train in mindfulness and build tiny houses in our backyards. It becomes more and more clear; we are full, we need quiet spaces and places to regain our energy and find balance in our busy existence. On the unique and green Quarantine terrain, in the harbor area of Rotterdam, this necessity has been represented by an exhibition called 'Quarantine, contemporary hermitages'. For 3 months, 24 pavilions, made by artists and architects, were exhibited on the terrain. Camposaz was part of the exhibition and created an international team the hermitage called 'Nina's Treehouse' in just 10 days. The pavilion serves as a place for contemplation. The concept of Nina's Treehouse focuses on a multiple experience of the paradisiacal green environment. The hermitage is surrounded by an earthy bamboo forest, multiple grand trees and the Maas river.
Le persone, nel mondo contemporaneo, hanno ancora bisogno di luoghi individuali, posti in luoghi idilliaci e appartati. Sovraesposizione alle informazioni, invasione dei social media e stress lavorativo, impediscono alle persone di raggiungere una vita equilibrata. Per questo motivo pratichiamo yoga e meditazione. Siamo saturi, abbiamo bisogno di luoghi tranquilli dove recuperare energie e ritrovare un certo equilibrio. Nel contesto unico e idilliaco dell'Isola della Quarantena del grande porto industriale di Rotterdam, si è svolta una mostra di arte contemporanea intitolata 'Quarantine, contemporary hermitages'. Per tre mesi, 24 padiglioni, realizzati da artisti e architetti, vengono lasciati in mostra sull'area dell'isola. Camposaz ha contribuito alla mostra con un team internazionale che ha progettato e costruito 'Nina's Treehouse' in soli dieci giorni. Il padiglione rappresenta un luogo di contemplazione. L'idea progettuale si ispira alle diverse esperienze sensoriali della natura paradisiaca. La struttura è circondata da una fitta foresta di bamboo e si articola attorno a tre grandi alberi che si affacciano sul fiume Maas.