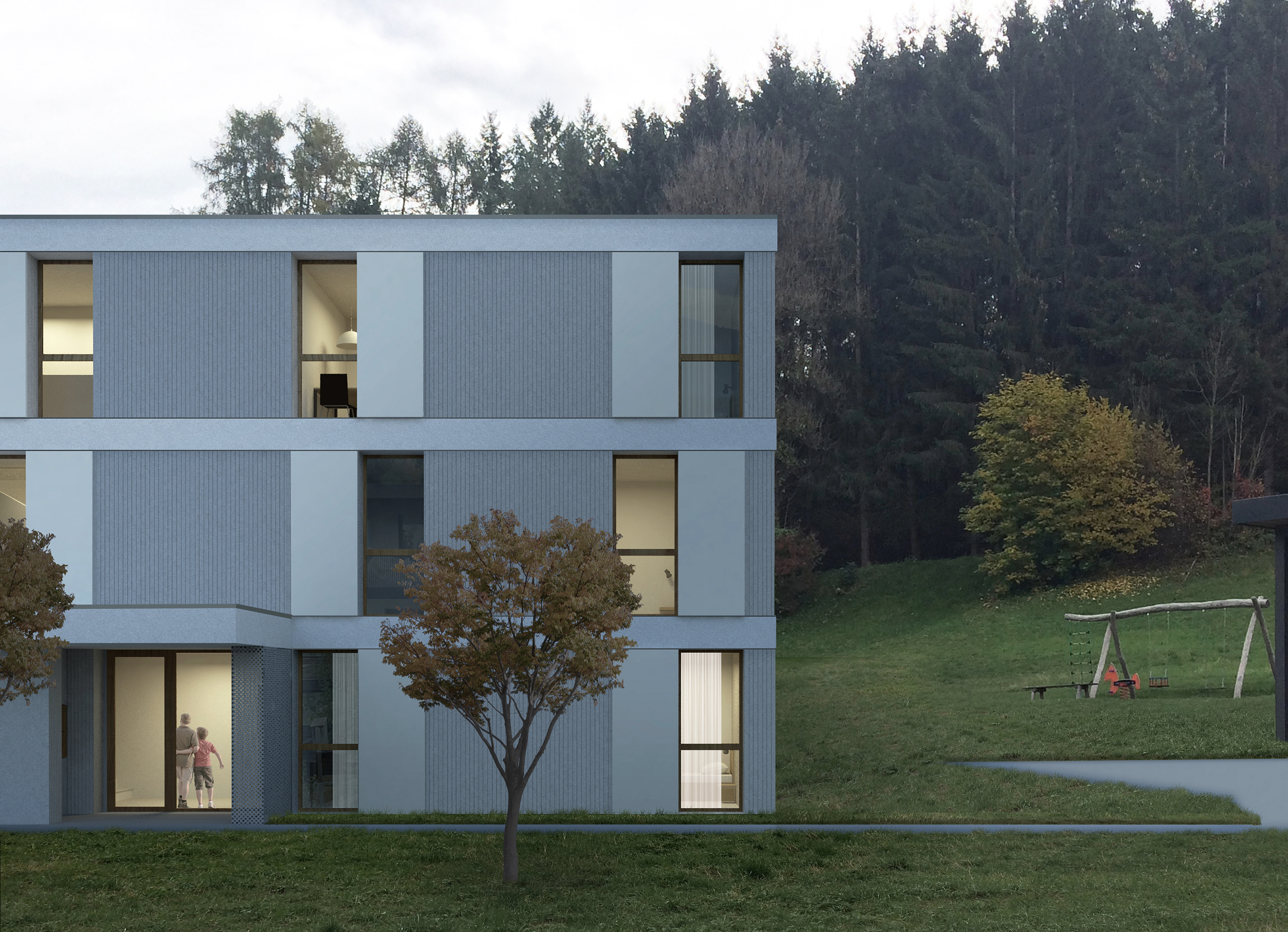 IPES social housing St. Lorenzen/S. Lorenzo di Sebato

Edilizia sociale IPES a St. Lorenzen/S. Lorenzo di Sebato
Location:



St. Lorenzen/S. Lorenzo di Sebato, IT
Client:


WOBI
IPES

Type:


Competition – 1st Prize
Year:




2019
Budget:



1.330.000,00
The construction site is the only lot not yet built within the expansion area called "Auerwiese", in the Municipality of San Lorenzo di Sebato. The context is characterized by a rather dense residential neighborhood positioned within a valuable landscape not far from the main town. The constraints dictated by the plan, the orientation of the lot and the desire to fit the new building, in a balanced and coherent way, within an already built area have suggested to opt for a volume as compact as possible oriented in an East-West direction, in order to best support the orography of the place. Pedestrian access takes place from the West, as a natural continuation of the internal network of cycle and pedestrian paths, while the connection with the underground garage takes place through a filter space that leads from the garage to the staircase inside the new building.  The building consists of 8 apartments of 3 different types, arranges on 3 floors above ground. The living areas have been positioned so that they all face South, in order to receive optimal lightning and to be placed in continuity with the private gardens and balconies; the sleeping areas have been placed side by side, in order to guarantee a high level of living comfort. Outside, a large canopy protects and outlines the main entrance to the building, also serving as a cover for the storage area for green maintenance. The outdoor spaces were almost entirely intended as common green areas, while the bicycle stalls were placed on the North side, along the border wall, protected by a shelter. From a compositional point of view, the building is composed by a simple regular volume with a flat roof and a long South-facing balconies, which recall the surrounding buildings of the new expansion area. The attempt to mark the longitudinal course of the building is emphasized by the rhythm of the façade elements and by differentiated use of materials. A system of screening made with  panels further enriches the façades, while light elements separate the balconies of the individual units, emphasizing the three-dimensionality of the façade.
Il lotto A3 oggetto della nuova edificazione è l'unico lotto ancora non costruito all'interno della zona di espansione denominata "Auerwiese", nel Comune di S. Lorenzo di Sebato. Il contesto si delinea come un quartiere residenziale piuttosto denso inserito  in una cornice paesaggistica di pregio poco distante dal principale centro abitato. I vincoli dettati dal piano, l'orientamento del lotto e la volontà di inserirsi in modo equilibrato all'interno di una zona già edificata in modo omogeneo e coerente hanno suggerito di optare per un volume il più possibile compatto orientato in direzione Est-Ovest, in modo da assecondare al meglio l'orografia del luogo. L'accesso pedonale avviene da Ovest, come naturale proseguimento della rete interna di percorsi ciclo-pedonali, mentre il collegamento con l'autorimessa interrata avviene attraverso uno spazio filtro che dal garage porta al corpo scala interno al nuovo fabbricato. L'edificio si compone di 8 alloggi di 3 differenti tipologie, disposti su 3 piani fuori terra. Le zone giorno sono state posizionate in modo da essere rivolte tutte verso Sud, così da ricevere un'ottimale illuminazione naturale ed essere poste in continuità con i giardini privati e i balconi; le zone notte sono state affiancate tra loro, in modo da garantire un elevato comfort abitativo. All'esterno un'ampia pensilina protegge e segnala l'ingresso principale all'edificio, servendo anche da copertura al deposito per la manutenzione del verde. Gli spazi esterni sono stati destinati quasi interamente ad aree verdi comuni, mentre gli stalli per le biciclette sono stati collocati sul lato Nord, lungo il muro di confine, protetti da una pensilina. Dal punto di vista compositivo si è optato per un volume regolare caratterizzato da una copertura piana e da lunghi balconi affacciati a Sud, temi ricorrenti nell'edificato circostante della nuova zona di espansione con cui si è cercato di instaurare un legame. La volontà di marcare l'andamento longitudinale del corpo di fabbrica si ritrova nella scansione degli elementi di facciata attraverso l'uso differenziato dei materiali. Un sistema di schermatura mediante pennellature arricchisce ulteriormente le facciate, giocando sulla ricomposizione del ritmo alternato delle forature, mentre elementi leggeri separano i balconi delle singole unità abitative rimarcando la tridimensionalità della facciata.