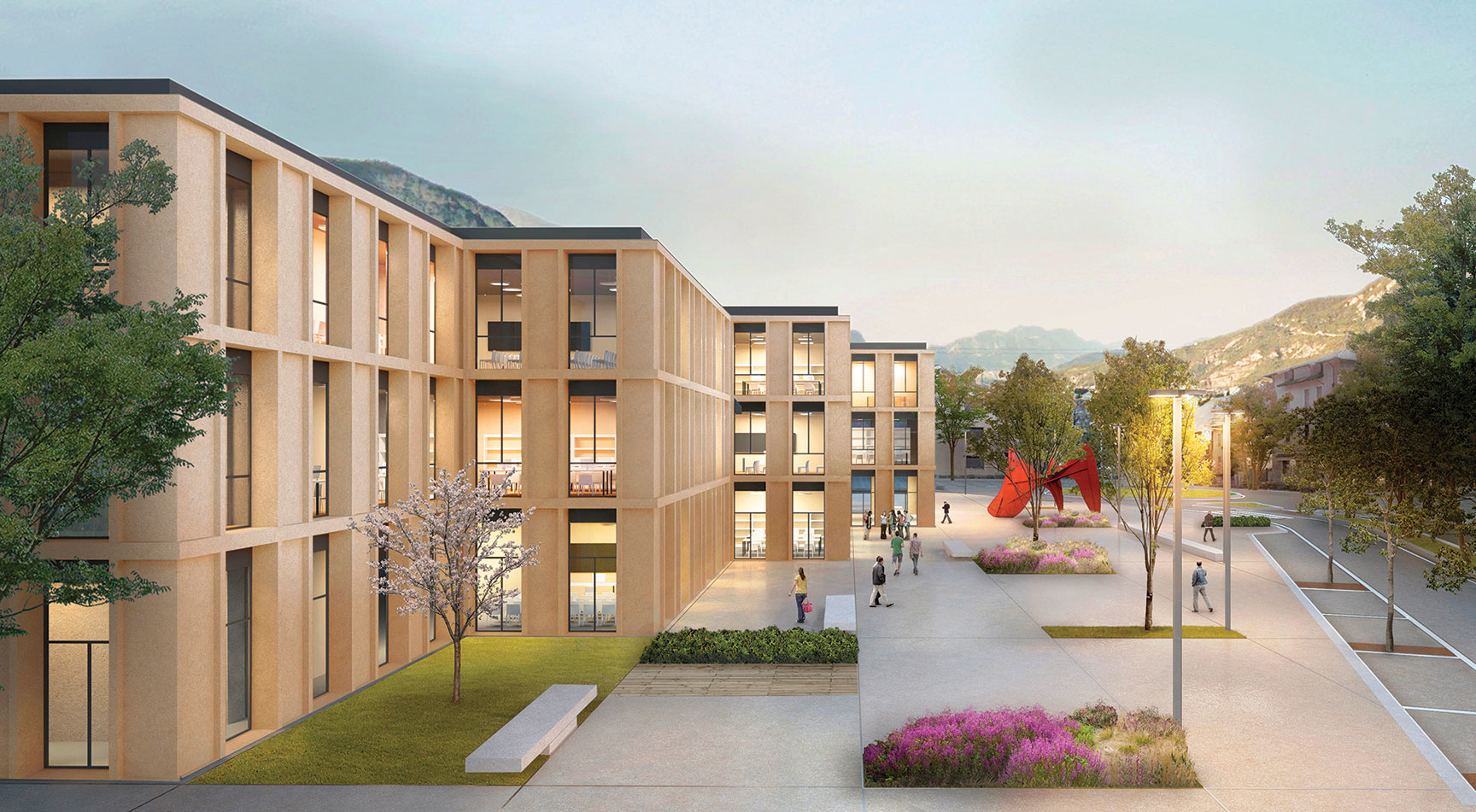 Liceo Artistico A. Vittoria
Location:



Trento, IT
Client:



Provincia di Trento
With:




Studio Bombasaro
Type:


Competition – 4° Prize
Year:




2017/2018
Budget:



10.500.000,00
The project for the new Art Academy Vittoria aims at defining a building with a strong urban character enclosing the north-east border of Parco Maso Ginocchio and facing two new urban public spaces. The L shape of the building allows the formation of a new square as an entrance to the Art Academy and to the park. To provide a good relationship with the urban context we have proposed a planimetric articulation of the main façade along Via Giusti, dividing the complex program of the Academy into a sequence of smaller volumes. The new building reinterprets in a contemporary way the façades of the principal institutional buildings of the 19th century in Trento, like the Palace of Justice and the Liceo Rosmini, characterized by regular and yellowish façades. An internal foyer distributed between three levels connects the two main entrances – one placed at the level of the city and one at the lower level of the park – providing a public and multifunctional space for the students of the Academy.
Il progetto per la nuova sede del liceo artistico Vittoria propone un edificio dal carattere urbano con un impianto ad L posizionato sul limite nord- est del parco di Maso Ginocchio, in grado di definire un nuovo spazio pubblico di accesso al liceo e al parco. Per promuovere il dialogo con il contesto urbano circostante si propone l'articolazione planimetrica del fronte urbano su via Giusti scomponendo la grande volumetria del liceo in una sequenza di più volumi. In analogia con i principali edifici istituzionali della città ottocentesca, come il Tribunale di Trento e il Liceo Rosmini, che per tradizione asburgica si caratterizzavano per una scansione ordinata e regolare delle aperture e per la tipica tonalità gialla delle facciate, il nuovo edificio reinterpreta in chiave contemporanea queste caratteristiche. Un foyer interno a tripla altezza raccorda i due livelli di accesso a quota della città e a al piano inferiore verso il parco generando uno spazio di aggregazione per gli studenti con molteplici possibilità di utilizzo

.