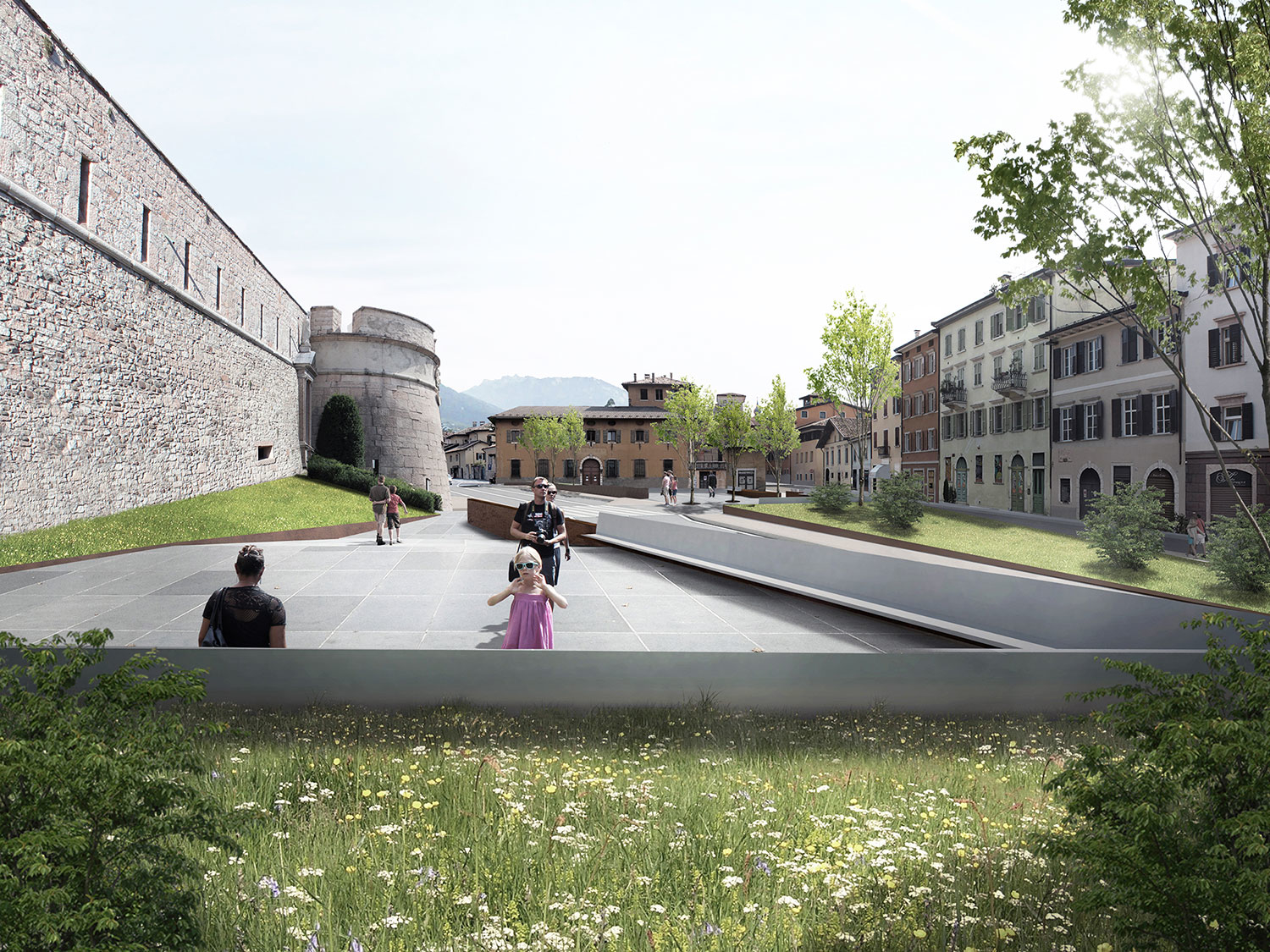 Location:



Trento, IT
Client:



Comune di Trento
Type:


Competition 1st Prize
Year:




2017/2019
Budget:



1.210.000,00
Throughout history Piazza della Mostra has always represented a space of separation between the city and the Buonconsiglio Castle and it has never been a real piazza despite its actual name. Therefore the aim of the project is not just to create a square, but to reconnect symbolically and physically the distance between the castle and the town expressed nowadays by a meaningless urban void without quality.The project consists in a sequence of three spaces at different levels that from the city centre lead to the entrance of the castle, finally realizing a disabled access to the museum. The street Bernardo Clesio will be moved away from the Buonconsiglio Castle, reducing the noise and the impact of the car traffic. Moreover we propose to enlarge the pedestrian area in front of the school "Raffaello Sanzio", projected by architect Adalberto Libera, in order to give continuity and coherence to the intervention.
Nel corso della storia Piazza della Mostra ha sempre rappresentato uno spazio di separazione fra la città e il Castello del Buonconsiglio, non svolgendo mai di fatto il ruolo di piazza malgrado il suo nome attuale. Il tema del progetto non è pertanto quello di creare semplicemente una piazza, ma di ricucire simbolicamente e fisicamente quella distanza fra il castello e la città che si esprime al giorno d'oggi attraverso un vuoto urbano privo di significato e di qualità. 

Il progetto prevede una sequenza di tre spazi a diverse altezze che dal centro storico conducono all'ingresso del castello realizzando finalmente un accesso sbarrierato al complesso museale.  Si prevede di allontanare via Bernardo Clesio dal fronte principale del castello mitigando l'impatto del traffico veicolare. Infine è previsto un ampliamento dello spazio pedonale di fronte alla Scuola "Raffaello Sanzio", progettata dall'architetto Adalberto Libera, in modo da dare continuità e completezza all'intervento.