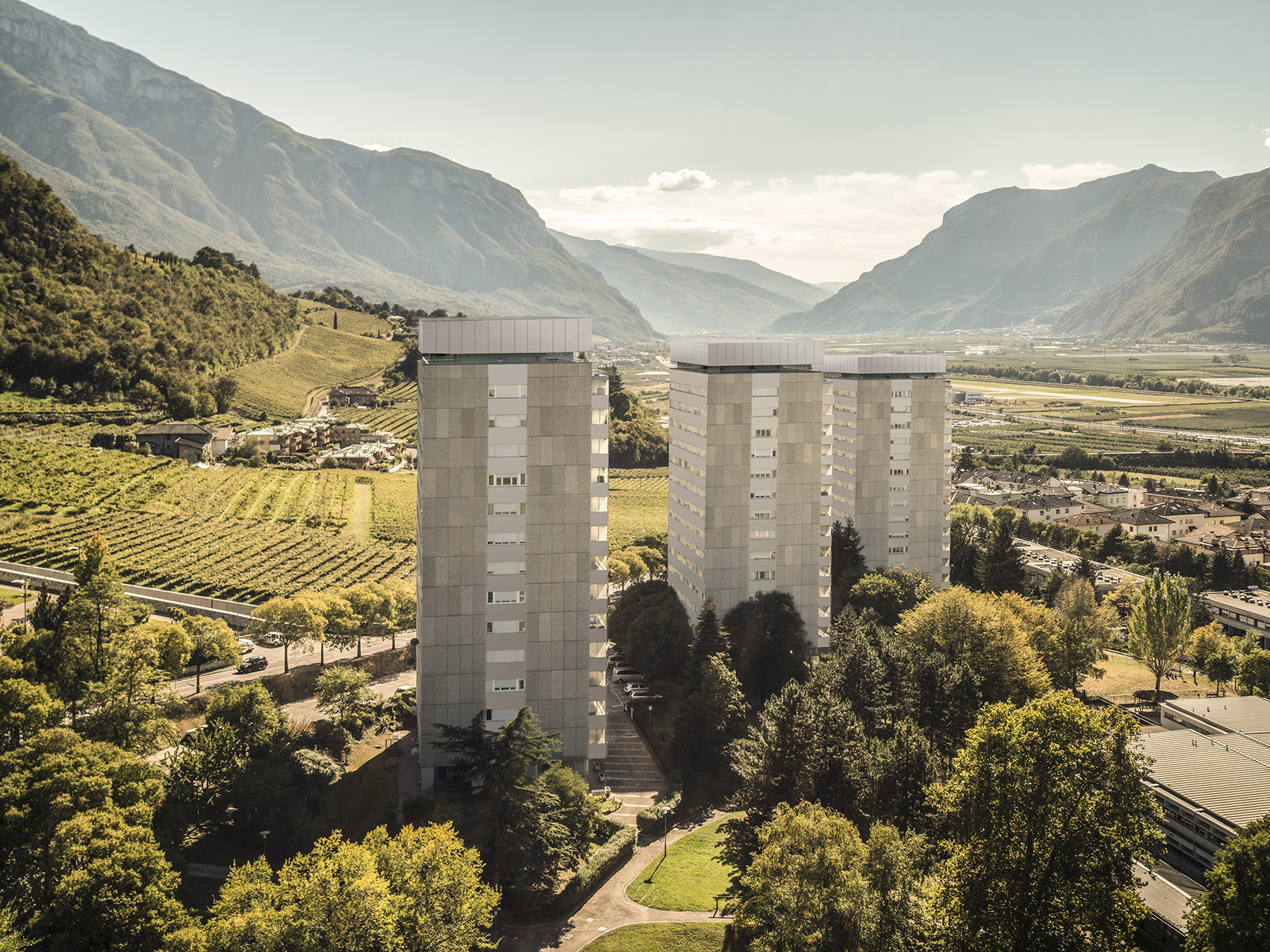 Torri 2020/Restyling of three social housing towers in Trento

Torri 2020/Restyling di tre torri di edilizia sociale a Trento
Location:



Trento, IT
Client:


ITEA s.p.a.

With:




arch. A. Bombasaro




Zephir Passivhaus Italia



Type:


Competition – 1st prize
Year:




2018
Budget:



9.241.519,00
The project consists in the restyling of three social housing towers in Trento. The Madonna Bianca district (1971/1976) designed by Armani and Perini, with Ferrari, Mayr and De Santis should be considered a paradigmatic example of the architecture of the 1970s, one of  the few built examples in Italy of the modernist ideal of the large-scale planning. The energy requalification was therefore conceived with  the critical spirit of a conservative renovation, in order to not alter the architectural expression of the complex. Large-format goes panels will be used on the façade to preserve the material and chromatic character of the towers. The dimensions and proportions of the new panels will be the same as those  of the current cladding. On the west elevations there is a system of solar shading with tones and colors inspired  by a 1977 work of Luigi Senesi, an important figure in Trentino art scene. A new volume is added to the roof  which creates a crowning element for the towers. These volumes will be slightly suspended above the towers, thus preserving the design and proportions of the original towers, creating new public spaces on the roof and turning into luminous lanterns at night. On the ground floor the entrance hall is redesigned in order to make it barrier-free. Thus, energy redevelopment becomes an opportunity to enhance public spaces at the service of the community, combining energy and social sustainability.
Il progetto prevede il restyling di tre torri di edilizia sociale 

a Trento. Il quartiere di Madonna Bianca (1971-1976) progettato da Armani e Perini, con Ferrari, Mayr e De Santis va considerato un esempio paradigmatico dell'architettura degli anni '70, uno dei pochi esempi realizzati sul territorio italiano dell'ideale modernista della pianificazione a grande scala. L'intervento di riqualificazione energetica è stato quindi concepito con lo spirito critico di un risanamento conservativo, al fine di non alterare l'espressione architettonica del complesso. Si prevede di utilizzare in facciata pannelli di grande formato in grès per preservare il carattere materico e cromatico delle torri attuali. Le dimensioni e le proporzioni dei nuovi pannelli saranno le stesse di quelli del rivestimento attuale. Sui prospetti ad ovest è previsto un sistema di teli solari con toni e colori che si ispirano ad un'opera del 1977 di Luigi Senesi, importante figura della scena artistica trentina. Sulla copertura si aggiunge un nuovo volume che crea un coronamento alle torri. Questi volumi saranno leggermente sospesi sopra le torri per preservare il disegno e le proporzioni delle torri originali, creando nuovi spazi pubblici in copertura e trasformandosi in lanterne luminose di notte. Al piano terra viene riqualificato l'atrio di ingresso per renderlo privo di barriere architettoniche. In questo modo la riqualificazione energetica diventa occasione per valorizzare gli spazi pubblici a servizio della collettività, unendo sostenibilità energetica e sociale.