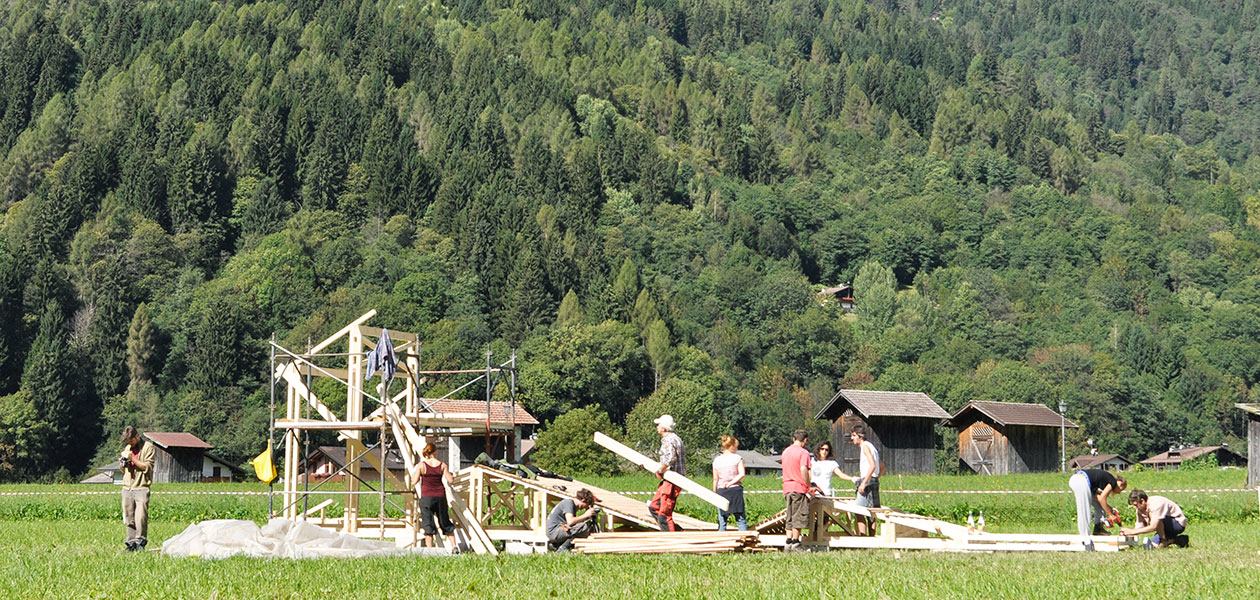 Location:



Tonadico, IT
Promoted by:



Aguaz
Campomarzio
Anålogo
Giovanni Weger
Partecipants:


Ani Arzumanyan, Massimo Bertoluzza, Matteo Busa, Angela Carpenter, Giulia Cerrato, Selli Coradazzi, Giacomo Fumanelli, Mariella Gentile, Maria Luisa Miotti, Magdalena Prus, Oliver Savorani, Daria Smirnova
With the technical support of:


Rothoblaas

Log House
Year:




2013
The first intervention is placed in the historic centre of Tonadico. In a previously unused and unnoticed urban corner the participants have built a stage-set for concerts and public activities. The aim of the structure is to provide a multifunctional and comfortable space, creating a gateway and an entrance to a picturesque staircase that leads towards a narrow alley. The new structure divides the urban space in two parts. Behind the stage there is a small urban living room with benches, table and stools.
The second intervention is a wooden structure placed in an open field of the Primiero valley near Tonadico, where there is a landing area for paragliders. The structure has been conceived to be perceived within in the landscape, either from the ground level or from the sky. Its fragmented profile is generated by various surfaces with different inclinations, where people can sit or lie down to admire the flying paragliders and the profile of the Dolomites. Under the highest portion of the roof there is a small open space where paraglider pilots can test their equipment, store their things and sit down. 
Il primo intervento è situato nel centro storico di Tonadico. In un angolo cittadino, precedentemente poco valorizzato e scarsamente utilizzato, è stato costruito un piccolo palco per concerti e manifestazioni. L'obbiettivo del progetto è stato quello di costruire una struttura di arredo urbano confortevole e multifunzionale. La struttura in legno del palco suddivide lo spazio in due parti e definisce una specie di portale di ingresso che enfatizza la pittoresca scalinata e il vicolo posto tra le case storiche. Dietro il palco è stato ricavato uno spazio più intimo: un piccolo salotto urbano dotato di una panca, di un tavolo e di uno sgabello.
Il secondo intervento prevede una struttura scultorea, posta in un ampio prato ai margini dell'abitato di Tonadico, dove è presente un uno spazio di atterraggio per i parapendii. La struttura è stata pensata per essere percepita nel paesaggio a vasta scala, sia dal livello del suolo sia dal cielo. Il profilo frastagliato della struttura è generato da superfici di copertura con diverse inclinazioni sulle quali ci si può sedere e sdraiare per ammirare il volo dei parapendii e il profilo delle Dolomiti. Al di sotto della porzione più alta della copertura è stato ricavato un piccolo spazio nel quale i piloti di parapendio possono provare i loro equipaggiamenti, appoggiare le attrezzature e sedersi.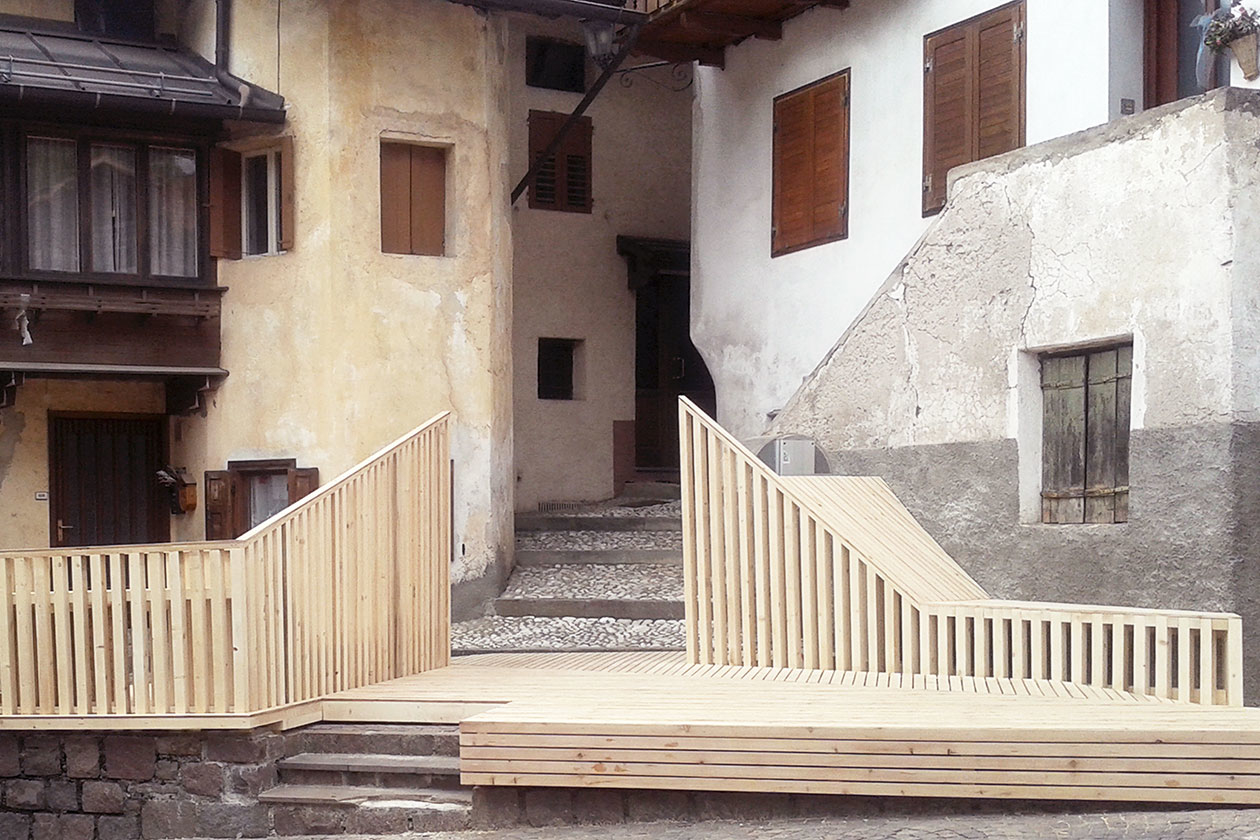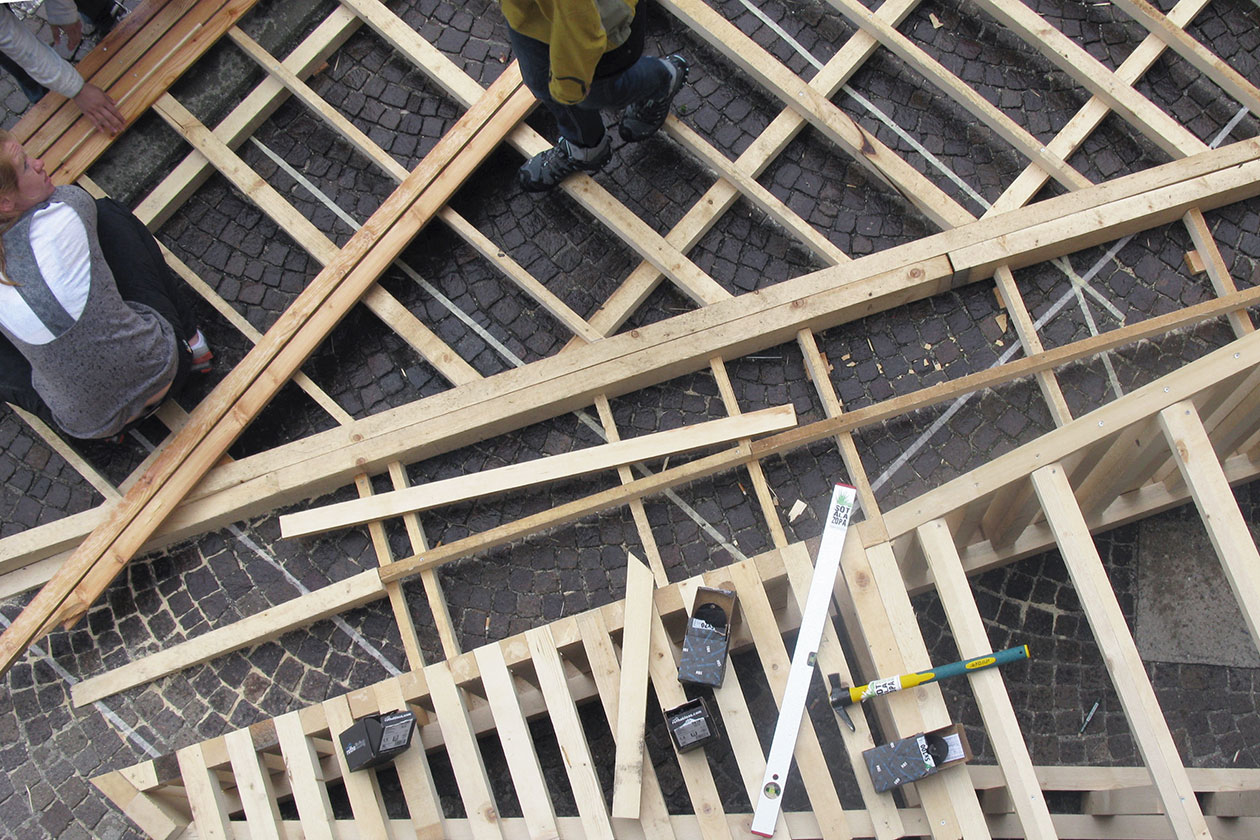 Urban Living Room
Town center of Tonadico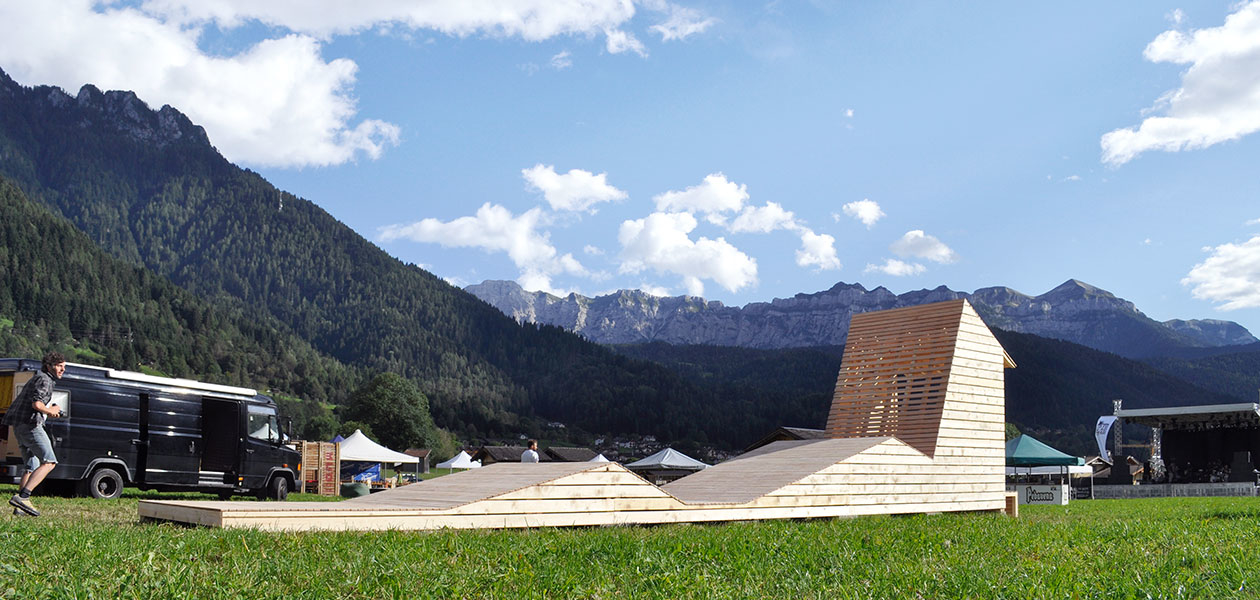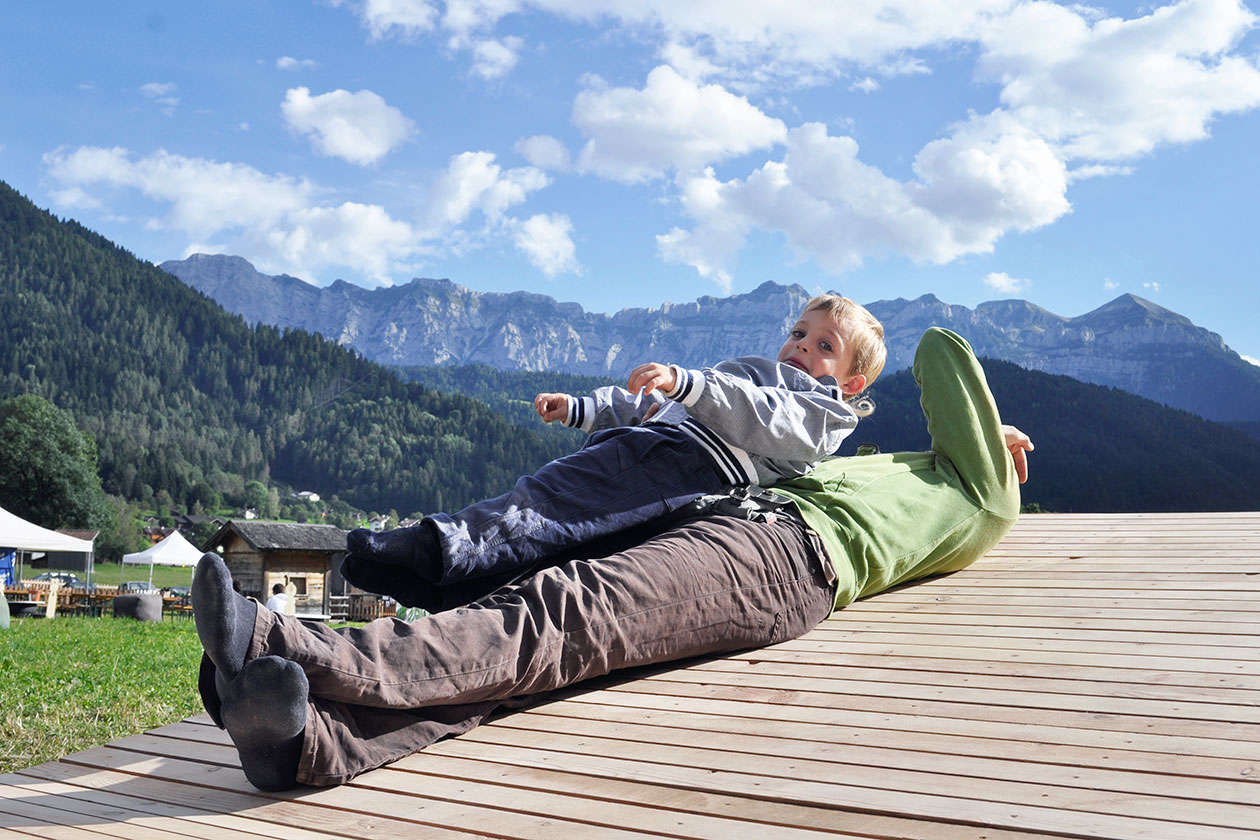 Landramp
Countryside of Tonadico