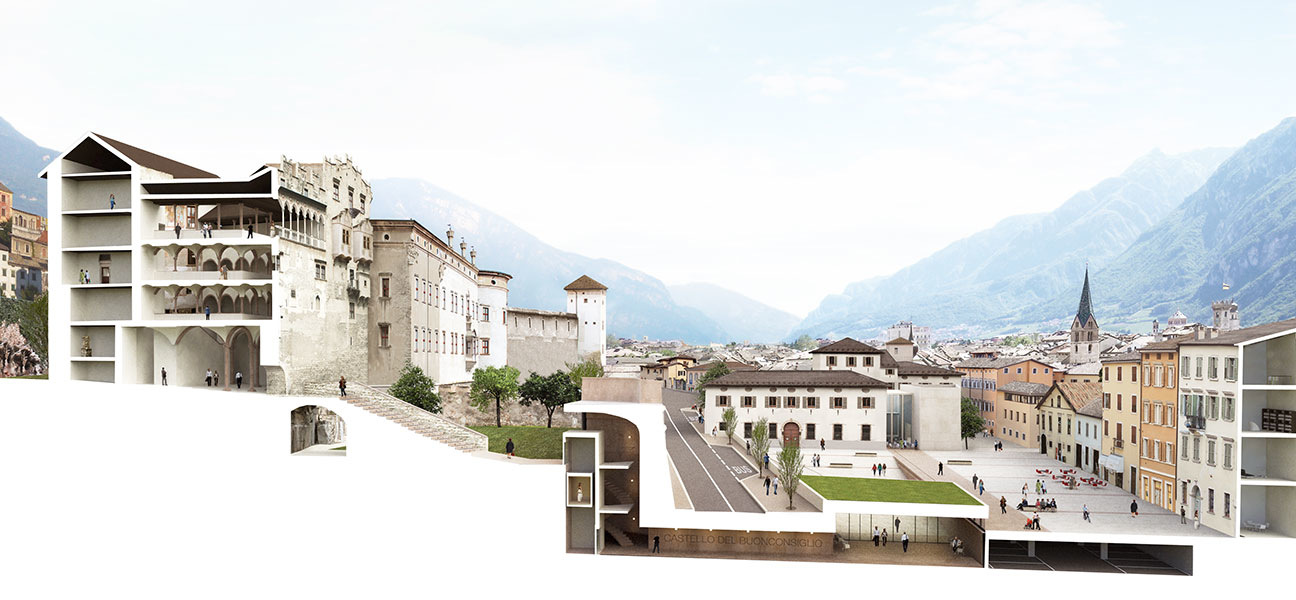 Piazza della Mostra

Progetto #00 
Location:



Trento, IT
Promoted by:



Campomarzio
Partecipants:


Pietro V. Ambrosini, Michele Andreatta,
Silvia Balzan, Andrea Bombasaro,
Alessandro Busana, Daniele Cappelletti,
Karol K. Czarzasty, Enrico Lunelli,
Enrica Mauro, Michele Moresco,
Ernesto Patti, Teresa Pedretti,
Massimo Peota, Isacco Rama,
Stefano Rubini, Roberto Sega,
Andrea Simon, Marco Scudellari,
Enrico Varagnolo, Valeria Zamboni,
Federico Zappini.
With the patronage of:



Comune di Trento
Year:




2013
Piazza della Mostra is an ancient square, dominated by the Castello del Buonconsiglio, placed at the edge of the historic centre of Trento and currently used as an openair parking space. Although throughout the 20th century different projects have been proposed to reduce the traffic affecting the existing road and to remove the presence of parking lots, none of these have been implemented. Campomarzio, collaborating with 15 other young practitioners (architects, engineers, sociologists, photographers and landscape architects) over a six-month period, analyzed this area throughout history to address its main issues and to elaborate a design proposal for the community. The proposal, shown in a public exhibition and through a self-produced publication distributed to the citizens, suggested to create an underground parking lot in order to clear the square from cars. To give meaning to the empty space of the square and to emphasize the relationship with the castle the project proposed to move the current ticket and information office of the Castello del Buonconsiglio Museum under the Piazza, linking the castle to the new facilities by an underground passage to overcome the congested road above.
Piazza della Mostra è una storica piazza, dominata dal Castello del Buonconsiglio, collocata al margine del centro storico della città di Trento e attualmente utilizzata come parcheggio a cielo aperto. Nonostante nel corso del '900 diverse soluzioni progettuali abbiano proposto la riduzione del traffico attraverso l'interramento della strada e la rimozione dei parcheggi a raso esistenti, nessuno di questi progetti è mai stato realizzato. Campomarzio, con la partecipazione di altri 15 giovani professionisti (architetti, ingegneri, sociologi, fotografi e architetti del paesaggio), ha analizzato per sei mesi quest'area attraverso studi storiografici per indirizzarne lo sviluppo ed elaborare una proposta per la comunità. Il progetto conclusivo, presentato in un'esposizione pubblica e in una pubblicazione distribuita ai cittadini, ha proposto la creazione di un parcheggio interrato per liberare la piazza dai veicoli. Per restituire significato a questo spazio pubblico e per enfatizzarne il rapporto con il castello si è previsto di realizzare nella piazza la biglietteria e l'information point del museo del Castello del Buonconsiglio. Un passaggio interrato collega queste nuove funzioni con uno dei torrioni evitando in tal modo l'attraversamento della trafficata strada in superficie.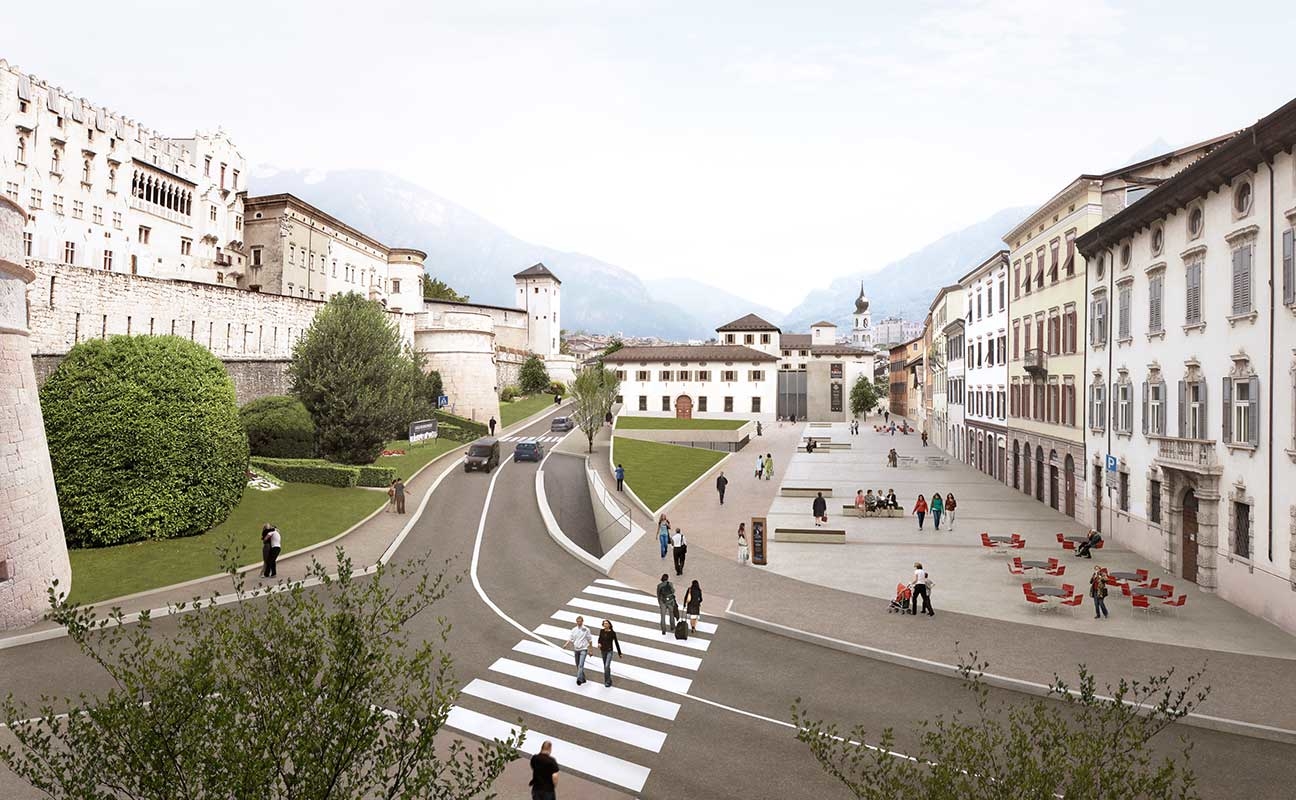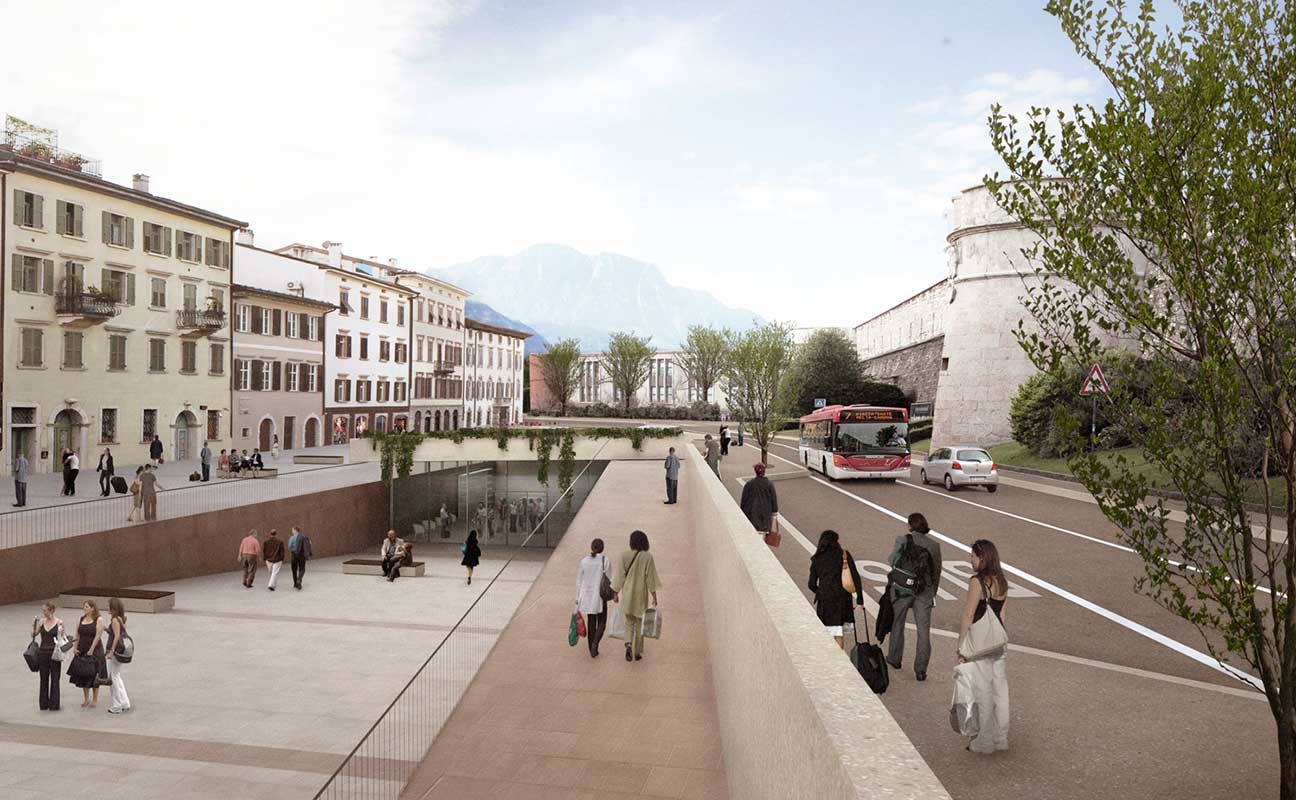 Piazza della Mostra 

Underground floor plan and square level plan